A bridge is commonly used to replace a missing tooth by crowning the teeth on either side of the open space and suspending a false tooth permanently between them.  Bridges do require a few extra cleaning steps using floss threaders and small brushes to keep them clean.  Proper cleaning is essential to ensure your bridge lasts for years.  We have bridge cleaning kits available at no charge.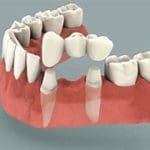 A Crown is needed when a tooth has broken or has a fracture that is causing pain.  To prepare a tooth for a crown we commonly reduce the tooth by 1 to 1.5mm from the top and all sides.  We then take a 3D scan of your tooth and a crown will be made out of the material of your choice.  We offer 3 types of crowns-
Emax (lithium disilicate) - Our same day, in office crowns.  These are made to match the color of your teeth.  Emax crowns are stronger that your enamel and provide the highest esthetics.
Zirconia - Zirconia crowns are at least twice as strong as your enamel.  These crowns are also made to match your teeth but do not offer the same esthetics as Emax.  Zirconia crowns are the strongest tooth colored crown available.  These do require two appointments.
Gold Crowns - Gold crowns are ideal for Patients with heavy wear as they will not fracture.  Gold wears well against your natural teeth and is less abrasive.  The only downfall for most Patients is that these crowns are gold in color.
The type of crown you get is your choice.  In some cases Dr. Mitchell will recommend one over the other in certain situations.  All options are similar in price.
Removable Partial Dentures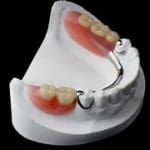 A Partial is for a Patient who is missing one or more teeth but still has other teeth present that can serve to support the partial denture.
Complete Dentures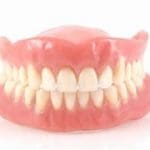 Dentures are made to replace all of the missing teeth.  Conventional dentures are removable, however many are now being made in such a way that they are held in place by dental implants.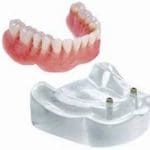 Extractions are performed for a wide variety of reasons, including tooth decay that has destroyed enough tooth structure to prevent restoration, severe gum disease, as well as broken teeth.
Extractions are often categorized as "simple" or "surgical".
Simple extractions are performed on teeth that are visible in the mouth, using local anesthetic, and require only the use of instruments to elevate and/or grasp the visible portion of the tooth.
Surgical extractions involve the removal of teeth that cannot be easily accessed, either because they have broken under the gum line or because they have not erupted fully.
Wisdom Teeth - Dr. Mitchell commonly refers to one of our local Oral Surgeons for removal of wisdom teeth.
Dental implants are becoming more and more common.  They are a long term tooth replacement option as they do not decay.  An implant is composed of three parts, the titanium root or screw which is placed down in the bone and given approximately 4 months to heal and integrate or fuse to the bone.  After Dr. Mitchell or your Oral Surgeon completes a stability check (makes sure the implant has fused), you will then have a scan or impression done to create the next two pieces.  A custom abutment will be made.  This piece screws down into the implant which creates a stable base for the crown to attach to.  Your crown will then be made to ideally fit your mouth and cemented on top of the custom abutment.
Implants are not a quick fix and do require time to heal, but are well worth the wait.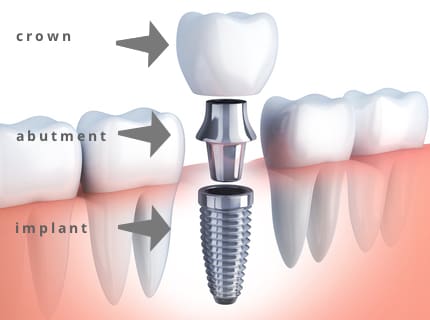 Your regular cleanings and check-ups are considered preventative treatment.  Coming in for regular cleanings allows us to catch any small problems in your mouth before they become big problems.
Cleanings are also crucial for the health of your mouth.  They remove build up that forms between the teeth and under the gum line that you are not able to brush off at home.
Our office offers hand scaling, prophy jet polishing,  and ultrasonic scaling.
Children- Dr. Mitchell recommends that children begin their cleanings at age 4.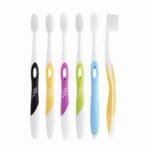 While Dr. Mitchell enjoys doing root canals, there are times when it is necessary to refer to one of our local Endodontists.  Our office will take a digital 3D x-ray that shows all of your tooth's anatomy.  This film will determine whether Dr. Mitchell will do your root canal or if we need to send you to a specialist.

Our office offers Opalescence whitening products.
For professional whitening we use Opalescence take home custom whitening trays and gel.  Our standard kit comes with eight tubes of 15% carbamide peroxide gel.  We like to start new whiteners out with a mid range strength of gel to asses their sensitivity.  We also offer refill tubes of whitening gel in four strengths from 10-35%.  For directions on whitening, please see our Forms & Information page.
For over the counter whitening products we recommend Colgate Optic White mouth rinse.  We have seen fantastic results with regular use.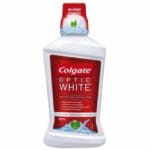 Here at Bruce Mitchell Family Dentistry we are 100% digital, meaning significantly less radiation, so little that the State of Oregon no longer requires that we use X-ray aprons.  However we do have them in every room if you'd like us to use one.